So, eleven games into the Premier league season, the pace has been well and truly set by a rampant Manchester City side who are already 8 points clear at the top of the table. They have been nothing short of incredible to watch and their philosophy of staying true to the way they wish to play, irrespective of the opponent and occasion, does not seem to have any adverse effects on the results. Manchester United are currently 2nd and after a couple of dodgy results, they find themselves with some catch-up work to do. Tottenham and Chelsea aren't too far off United, but at the moment, no one really knows if there will actually be a title race after all the preseason buildup. Manchester City have looked peerless and Guardiola is evidently stamping his authority when it comes to their style of play and dominance.
There have also been pleasant surprises at the start of the season with the likes of Burnley, Watford and Brighton all doing much better than the pre-season expectations. On the other end of the table, clubs like Swansea City, Crystal Palace, and West Ham that have tended to do well in the league in recent years, have struggled. After spending £150m in the summer, Everton have struggled big time and their new signings have failed to impress. They are in such a precarious situation near the relegation zone that after having sacked Ronald Koeman, relegation fire-fighter Sam Allardyce is the favourite to take over the job. So, in a season that has already had so many highs and lows, what is the best XI of the season so far?
GOALKEEPER– DAVID DE GEA
Now, where do we begin with this man? David De Gea is undisputedly the best goalkeeper in the world, at the moment, with his constant exploits for Manchester United over the past couple of seasons. De Gea hasn't had anywhere near what he has had to do as compared to previous seasons, but he has pulled off some wonder saves like the ones against Stoke and Liverpool. The Spaniard has kept eight clean sheets so far and is very much on his way to win the Golden Glove this season. The league highest of all time is 21, currently jointly held by Petr Cech and Edwin Van der Sar. De Gea has every chance of running that record very close, this season.
CENTRE BACKS – PHIL JONES, JOHN STONES, TOBY ALDERWEIRELD
Going with the very commonly featured 3-5-2 formation, the three most impressive centre backs this season have been Phil Jones, John Stones and Toby Alderweireld. Phil Jones has been having somewhat of a renaissance this season. He has been absolutely brilliant and except for a lapse for the second goal conceded at Stoke City, he has been genuinely magnificent. In the 863 minutes he has played so far, he has just conceded three goals. Jones is having his best season in quite a few years and if he stays injury free, he will be England's first choice centre back at the World Cup, with even England boss Southgate claiming he is England's best centre back, on form. Jones is finally coming of age under Mourinho and he will hope injury does not desert him of a consistent run of games.
Another Englishman who is having a great season is from the other side of Manchester. John Stones has been a revelation this season. After having a tough start to life at Manchester City following a big money move, last season, Stones has become one of City's most important players and one of Guardiola's trusted lieutenants. He is showing all the ability that made many tout him as future England captain and in the absence of City stalwart Vincent Kompany, Stones has assumed responsibility with consummate ease. His passing accuracy of 97% is the best amongst all defenders in Europe and he is showing why Guardiola wanted him so desperately in the first place. He and Jones could very well be England's first choice pair at Russia, next summer.
Finally, the other man who is very quietly having a wonderful season is Spurs' Toby Alderweireld. His performances in the last couple of seasons have heralded him with a lot of praise and he is arguably the best centre back in the league, right now. Alderweireld has continued to show his class and if Spurs are to challenge for the league, they need him to continue in the same vein of form. The Spurs man is currently negotiating a new contract and if they don't reach an agreement soon, expect many top clubs around Europe to be vying for his signature.
WING BACKS – KYLE WALKER, SEAD KOLASINAC
Another Englishman. Another £50m purchase. Another Manchester City player. There is no surprise in seeing these many City players after the start they have had. Kyle Walker has been every bit of the player Guardiola wanted at Right Back after plodding through last season with veterans like Pablo Zabaleta and Bacary Sagna. Granted, he is not peak Dani Alves and will never reach that level, but from a tactical standpoint of what Guardiola wants from a Full Back, Walker does that very competently. He has the ability to drive up and down for 90 minutes and can slot into midfield areas, as well. Walker has been so good that Danilo, another Right Back signed in the summer, hasn't got too much of a look in, thus far.
While Walker's move from Spurs to City garnered a lot of attention, Sead Kolasinac's move to Arsenal for free from Schalke didn't really set the tongues wagging. Here was a man who was voted as the Bundesliga's best Left Back over the likes of David Alaba and Ricardo Rodriguez. He has been very good for Arsenal and has been a goal threat as well, surprisingly. While Arsenal's insistence on sticking with a 3-4-3 formation irrespective of the opponent does not suit some players (Wenger, meh!), Kolasinac has certainly benefited from it, massively. His ability to take on players and show his power and strength has been hugely beneficial for Arsenal. Already referred to as "The Tank" by Arsenal fans, he is very much a bargain.
CENTRAL MIDFIELDERS – FERNANDINHO, KEVIN DE BRUYNE, DAVID SILVA
Manchester City's players and manager have received a lot of praise and rightly so, but one man who hasn't been given much acclaim is Brazilian Fernandinho. While the likes of Kevin De Bruyne and David Silva show their magic and brilliance going forward, Fernandinho holds it all together. The role he performs is extremely difficult considering the fact that City commit so many men going forward and despite that, City have been solid defensively. They do not have anyone else to do a similar role this effectively with Yaya Toure nearing the end of his career, and this means Fernandinho virtually plays every game.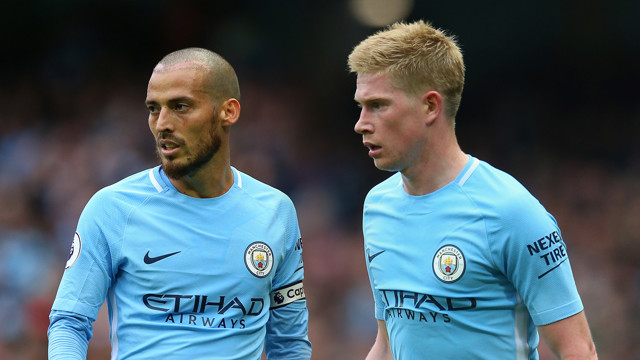 Up next, the player of the season, so far – Kevin De Bruyne.It's a wonder how Chelsea let him go without a buy-back clause in the first place. De Bruyne has been nothing short of magnificent. He is the heartbeat of City with everything going through him. He is Guardiola's lynchpin and very often, he drops deep into something like a quarterback position and links up with the forward men. Incredibly, he has already got 9 assists and 2 goals in all competitions and he is not even playing that high up the pitch. De Bruyne is a complete midfielder and a lot of credit has got to go to Guardiola, the nemesis of the man who sold him at Chelsea!
The other midfielder I have gone with is the ever unassuming and classy David Silva who even at the age of 31, amidst all the big money spending by City, is one of their most important players. Silva He has provided the most assists (7) in the Premier league so far and he is vital to City. He, one can argue, is the best Premier League player of this decade alongside Eden Hazard. He does not make the back pages of newspapers too often, but his importance to this City side cannot be underestimated in any which way.
FORWARDS – MOHAMAD SALAH, HARRY KANE
Another Chelsea reject. Another player Mourinho sold without giving a fair crack. Salah is a very interesting player who was welcomed back to England with some apprehension. Salah was brilliant for Fiorentina and AS Roma in the Serie A but the English media being themselves, questioned whether he could do it in the Premier league. He has answered quite emphatically. Salah can be an extremely thrilling player as well as an utterly exasperating one. He has the ability to blow an opponent out of sight with his combination of frightening pace and incisive running and also has the ability to miss when it seems far easier to score. But he has already scored 7 goals in the Premier league and looks to be one of the signings of the summer.
Finally, the man leading the line will be Harry Kane. It could've very easily been Romelu Lukaku, (another Chelsea & Mourinho reject) if he had not gone through the dry spell he is having right now. Kane has been brilliant for Spurs and getting close to world-class status. Kane has already scored 17 goals for club and country this season and is leading Spurs' title challenge, once again and in the loss to Manchester United, his absence was evidently felt. Kane has been very good in the Champions league as well and this year being a World Cup year, he will hope to continue his form right throughout.
SUBS – EDERSON, TARKOWSKI, MATIC, ERIKSEN, SANE, AZPILICUETA, LUKAKU
Image from Metro
Image from Getty
Image from Man City
Image from Mirror
READ MORE FROM ANIRUDH
The post PREMIER LEAGUE XI OF THE SEASON, SO FAR appeared first on El Arte Del Futbol.