There are two sides to the coin that is Group G. You have England and Belgium, who know all about the occasion, and are striving to match the considerable potential of their talent. Then there's the novices, Tunisia and Panama. 2018 will be a new chapter in both countries' footballing histories. With nothing to lose for either, they'll be looking to throw a spanner in the works. 
BELGIUM
The anticipation surrounding the Belgian camp continues to intensify with the days counting down to kick-off in Russia, and rightly so. Their return to the big stage in 2014 didn't exactly go to plan as they failed to dazzle having been touted as the dark horses by many. It was the same story at Euro 2016.
More a bunch of 11 excellent individuals than they are a team, this World Cup presents an opportunity for the Red Devils to come of age. Roberto Martinez has been entrusted with the task of bringing together much of the same dressing room as the last two major tournaments (minus Radja Nainggolan, that is).
🗒 This is our @FIFAWorldCup squad list !
Let's go #REDTOGETHER to Russia ! 🇧🇪

🔜 #WorldCup 🏆 pic.twitter.com/4FBWfiKZGJ

— Belgian Red Devils (@BelRedDevils) June 4, 2018
Stacked with quality across the board as they are, the Full Back position remains a problem area for Belgium. Martinez will likely bypass that issue by putting out a 3-4-3 formation. As seen in their latest outing against Portugal, it allows them to field their three best Centre-Backs with attack-minded Wing-backs Meunier and Carrasco supplying width. Kevin de Bruyne will run the show as a 'number 8' alongside either Witsel or Dembélé anchoring the midfield. Hazard will take up the inside forward role, where he shone in Chelsea's last title-winning run, hoping to combine with Lukaku and Mertens to deadly effect. However, with a late injury to skipper Vincent Kompany, Martinez may have to turn to Plan B.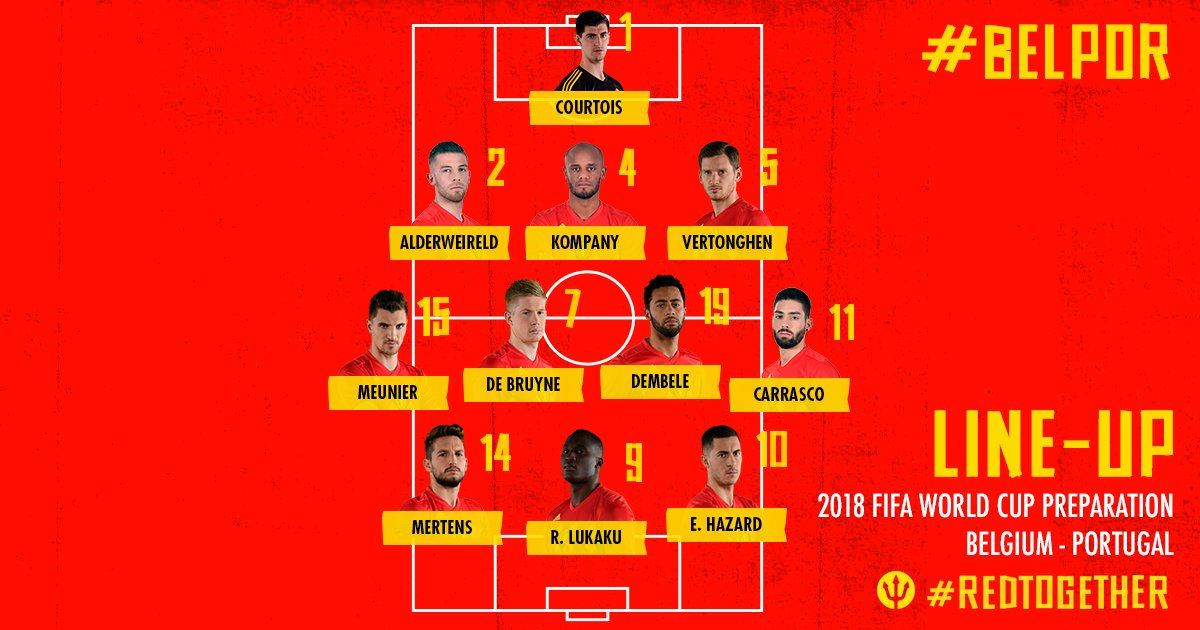 Ranked 3rd behind Germany and Brazil, there's no doubt that this is it – the 'Golden Generation'. It's a label that has taken its toll on great sides in the past, but if things click into gear, who knows? Whether it's going to be fight or flight, only time will tell.
ENGLAND
Belgium needs to look no further than their group rivals to learn from a team that has crumbled under the weight of expectations. Considering how they struggled in 2010 and altogether failed in 2014, a safe passage from the group isn't a guarantee for England.
It's been a turbulent couple of years for the Three Lions. Following the humiliation of being eliminated by Iceland at the Euros and manager Sam Allardyce's infamous malpractice scandal, much of the focus has been on wiping the slate clean. The squad has reflected that, banking on youth and versatility ahead of more seasoned specialists, with Gary Cahill the only player with more than 40 caps. 
We are the #ThreeLions. pic.twitter.com/dHpDVBLNtg

— England (@England) June 4, 2018
If Gareth Southgate is a stranger to the occasion, he has done his best not to show it. His time in charge has been marked by a series of bold decisions, such as the recent switch to a back 3. Deploying Kyle Walker on the right and John Stones as an old school libero or sweeper, it's clear that the goal is to play out from the back. Goalkeeper Jordan Pickford's passing range will come in handy as he looks to spray long balls out wide to break the opposition press. In attack, Dele Alli, Sterling and Lingard's versatility will be put to the test as they look to remain fluid behind captain Harry Kane.
Are they the perennial underachievers, or simply not good enough? Every four years, like clockwork, England's road to a World Cup begins with misplaced optimism, unrealistic comparisons and endless reruns of the win in 1966. This year's build-up is going to be no different, but can they change the end result? Stranger things have happened in football.
TUNISIA
It's an exciting time to be a Tunisian football fan. The revival of the francophone nation's fortunes, which had been steady since the last World Cup, has really taken off in the past 18 months.
Following a second successive quarter-final exit at the African Cup of Nations in January of last year, a change was ushered in by bringing back Nabil Maâloul to the helm. His second stint has been a resounding success so far, qualifying for the first time since 2006 with an unbeaten streak of nine games to boot. They enter the finals ranked an impressive 14th, right below England and higher than any other African country.
OFFICIAL: Tunisia's 23-man squad for the 2018 World Cup. 🇹🇳 pic.twitter.com/lyxOMXAmWP

— Squawka News (@SquawkaNews) June 4, 2018
But this is where things begin to get really tough for the Carthage Eagles. Injuries have already ruled out star forwards Taha Yassine Khenissi and Youssef Msakni, who Maâloul hailed as Tunisia's Messi-esque talisman. 12-goal winger Wahbi Khazri has also been out of action since March and is running out of time having missed the warm-up friendlies. The decision to opt for fresh blood over experienced campaigners who featured in qualifying is starting to look like it could backfire.
A young, talented bunch on a good run of form and adoring fans in their corner – Tunisia might just have enough to make it out of the group stage for the first time in their history.
PANAMA
It has been a long, winding road to their maiden World Cup appearance for Panama, but they're finally here. Back in 2013, they were on the way to Brazil after leading the US 2-1 in their final qualification match. However, disaster struck as two stoppage-time goals from the Americans turned the game on its head to knock them out. It was only fitting then, that come 2017, Román Torres's 88th-minute winner meant that not only did Panama make their dreams come true, they did so at the expense of the USMNT, exacting sweet revenge.
Unlike their Group G opponents, the experience isn't something Panama are short on. Nine of their ten most capped players will be headlining the oldest squad in Russia but that's not necessarily a good thing. The ageing squad has forced manager Hernán Gómez into adopting the ultra-defensive 5-4-1 formation. No team scored fewer than their 9 goals in 10 qualifying games.
Estos son los 23 convocados por Hernán Darío Gómez para para representar a 🇵🇦 por primera vez en @fifaworldcup_es. #TodosSomosPanamá #PanamáPaRusia pic.twitter.com/X1ounUotBH

— FEPAFUT (@fepafut) May 30, 2018
Progress to the knockout stages might just be a step too far for the Los Canaleros in their competition debut. Their rise to prominence has been astonishing, however, considering how they got their first taste of international football at the U-20 World Cup as recently as 2005. For them, the finals will be about celebrating their journey, and anyone who witnessed the scenes of delirium back when they qualified knows that that's exactly what they're going to do.
VERDICT
Belgium and England will be looking to iron out any wrinkles in their squads in time for the knockout stages. The clash between the two is, without doubt, the standout fixture of the group and if things go to plan, could be a straight shootout to decide who wins the group. Both teams know each other inside out, with Roberto Martinez and most of his team having made their name in the English Premier League. Kane versus Alderweireld and Vertonghen, Cahill trying to keep Hazard at bay, Walker tussling with de Bruyne – this game promises its fair share of thrilling sub-plots.
Tunisia and Panama are on the opposite ends of the spectrum of age and experience and will be keen to show that they aren't just there to make up numbers. While they would be chasing shadows with their backs to the wall for the majority of their games, it isn't beyond the realms of possibility for them to cause an upset. An intriguing set of matches await.
Feature Image via Footballtips
To read more from Kabir
More World Cup Analysis